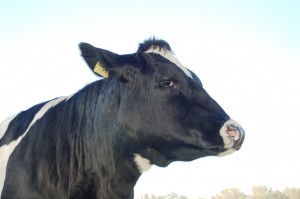 TopTierTreff: presentation of daughter animals of top German and European sires – All major national and international cattle breeding organizations represented – Daily animal presentations with commentary
Breeding organizations
All the leading national and international cattle breeding organizations were represented at the presentation of daughter animals, the "TopTierTreff": top cattle genetics show at EuroTier 2014 in Hanover. From 11 to 14 November 2014 daughter animals of the dairy breeds Holsteins, Angeln, Brown Cattle, Simmental, Brown Swiss and German Simmental were presented in Hall 27 at the Fairgrounds in Hanover. Beef breeds Angus, Aubrac, Blonde d'Aquitaine, Charolais, German Simmental, Galloway, Hereford, Highland Cattle, Limousin, Uckermark, Wagyu cattle, Welsh Black and the rare dual-purpose breeds Grey Mountain and Pinzgauer were also represented. This presentation of cattle diversity ca-ters to the steadily increasing need for information on the part of cattle breeders from all over the world. The breeding companies and organizations have provided information about the top sires in their breeding programmes, with details of the corresponding hereditary performance and merits, in breed blocks. In a related focus segment in Hall 27, the daughter animals were integrated into the respective stand concepts of the exhibitors. The consistently expanding international animal breed presentation have featured a further highlight – a display of country-specific sheep breeds from Germany and Austria, as well as alpacas.
Cattle shows
On each day of the exhibition the different dairy breeds, as well as bulls and mother cows of the beef breeds were presented on the TopTierTreff stage in Hall 27 and experts from the corresponding breeding organizations have provided a commentary. The genetic strengths and performance potential of daughter-tested and genomically tested top dairy cattle sires have been shown impressively by top-class daughter animals. Targeted pairing with these bulls makes for high-performing and healthy cattle – the prerequisite for successful milk production. This form of presentation gave visitors to EuroTier 2014 an excellent overview of the current top sires in cattle breeding.
Thanks to Eurotier en DLG for the excellent shows in Hall 27.